MP Fencing
is a long-established small business, catering for the fencing requirements of commercial organisation and private individuals.
With most big fencing firms it's about how big the job is and how much money can be made. With MP Fencing the emphasis remains on the quality of the work being done to a very high standard. Also the materials are top quality so you buy the best for your money; we believe a fence should be an investment that lasts for years. So your money should pay for a first-class job and top quality materials and nothing less, buy once buy right.
We undertake all types of work, including garden and security fencing, gates and railings. Our security fencing can be found around the premises of major companies, shopping centres and even the Houses of Parliament! We now also specialize in decking and hard landscaping also block paving, no job is too big or too small. Your find some examples of our work on the photos page.
Among others we can supply and erect the following types of fencing:

Palisade

Welded Mesh

Paladin

Chain link

All types of timber fencing

Plus all types of gates and railings
We can offer prompt, efficient service, no-obligation free quotes and workmanship of the highest standard at all times.
Please click on the Contact Us page for details on how to get in touch, via phone or email.
Location of MP Fencing:


MP Fencing is based in the Basildon area in Essex
We are situated within minutes of the A13 and A127 and not far from the M25. Guaranteeing us easy access to many areas in London and the Home Counties.
MP Fencing Company Background:
MP Fencing was established by Mark Phillips a fence erector with over 21 years experience, also now accompanied by Ray Green a fence erector with 7 years experience, qualified carpenter and decking specialist.
Mark is a third generation fencer and is proud to continue the family profession. He learned his trade from his father and worked together with him for a number of years for a large fencing firm which specialised in erecting security fencing in establishments such as prisons, shopping centres and financial institutions. Mark and Ray worked together for a small fencing firm based in Essex for a number of years erecting fence's and doing a number of large decking jobs, some of which are on the photo's page.
Mark came to feel that the time was right to leave the company and set up his own business, where he could offer competitive prices and very high standards without the restriction of working for someone else.
Since that time MP Fencing has erected a large number of fences, gates and railings. Work is often gained through recommendation or word-of-mouth, which is testament to the excellent standards which are maintained regardless of the size of the job or the cost involved.
If you would like to contact MP Fencing in order to obtain a free quote for any type of fencing, decking, hard landscaping or block paving, please click on the Contact Us page.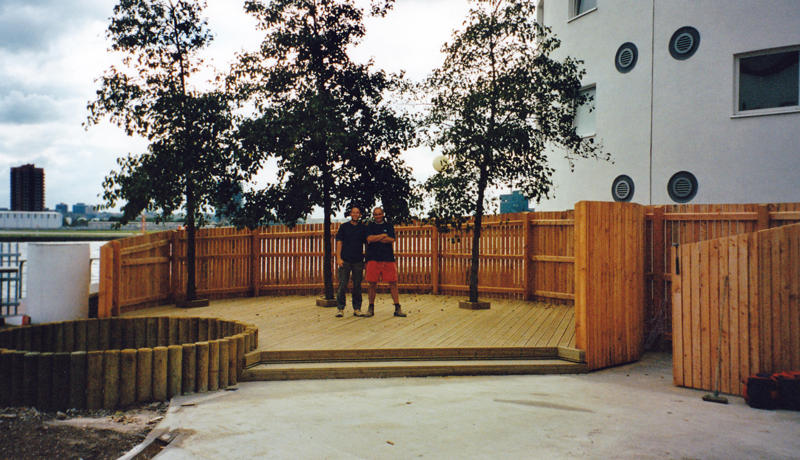 Please contact us by:
Phone 01268 450146
Mobile 07949 444524
Email: mpfencing@yahoo.co.uk